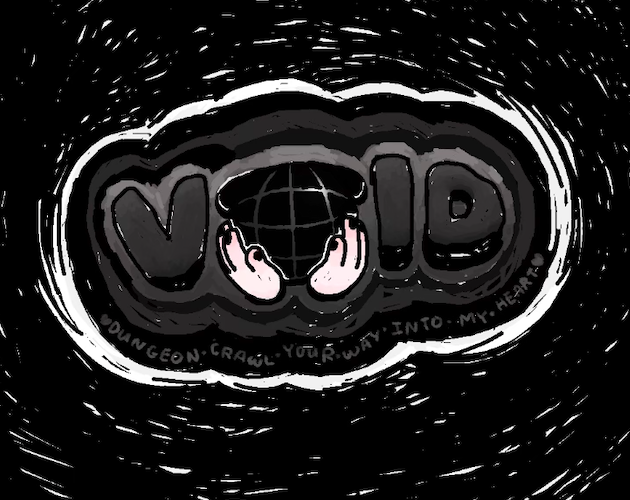 Q1: Void
A downloadable fictional game manual
Have you ever found a game manual and spent hours studying it hoping you'd be able to play some day? Do you remember imagining all the possibilities the game could hold combined with the thrill of potentially being able to play it in the future? And somewhere along the way the manual became more of the game you wanted than the game itself?
But more than anything- don't you just miss holding game manuals in your hands?
Void is Q1 of the FICTIONAL VIDEOGAME MANUAL ZINE PROJECT, where both droqen & kelly k bring you a version of a videogame you can only experience as a manual. What happens outside the manual is up to you.



okaykellyk & droqen made this!
It can be hard to make sure equal collaborators gets proper credit anywhere. this truth is also true on itch, where one person's account must ultimately claim sole ownership of a project.
Please take a moment to appreciate that Void was made by these two artists!

You can further support okaykellyk and droqen on patreon to get yourself some cool rewards!
little quotes from us...

droqen
The Eggplant podcast and its community stand for appreciation of so many weird parts of games that I couldn't resist the idea of finishing & submitting our manual for an unplayable and nonexistent game to this game jam. As luck would have it, the first-ever Eggplant Podcast Community Game Jam had the perfect theme (Going into the Void) and the perfect deadline for our plans. Thus was born our first fictional manual, Void.

"The idea of playing a game" is not, itself, a game... but it is a really beautiful part of what games are, and sometimes it's better than the real thing. I hope you'll enjoy having our fictional game in your mind's eye.

kelly k
what is a manual without a game?
with the death of physical game manuals, i always find myself returning back to memories of holding one in my hands as a kid, turning each page in more awe than the last. somehow, experiencing a manual became more special than playing the game itself. i want to bring that feeling back!! if a game doesn't need a manual to exist, why should a manual need a game?
the void remembers
Purchase
In order to download this fictional game manual you must purchase it at or above the minimum price of $5 USD. You will get access to the following files:
Comments
Log in with itch.io to leave a comment.
Glitch RPG video game adaptation
Sounds cool, but I can't get it. Sorry.
A great idea, well executed :)