I am so happy about having nearest-neighbour pixel rotation.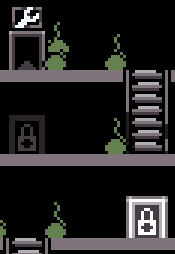 I've been making the game nicer. More character sprites are in the works, I've added a bit of juice, and I've added a lot of focus.
Before: this was a messy simulation that was very hard to learn and get invested in.
Now: this is becoming a concentrated much easier to pickup experience about teamwork and selfishness in hard times.
It's lost its way, a little bit. There is significantly less of an inequality angle.
I hope it turns out well.
Get Inconsiderate Climbers