As it turns out I'm going to have three opportunities in the next few weeks to get this game out @ some events, but I'm also busy working on Bravery Network!
1. NOV 18 - Arcade by BURNT TOAST ft. Gloam Collective - https://www.facebook.com/events/522664148070353/
2. ???
3. ???
With this in mind, I renamed the game one final time (I HOPE).
It took me a long time to arrive at the name Different Towers; I settled on a literal description of an older version of the game where players literally inhabited 'different' 'towers'. Naturally, immediately after doubling down on that name -- literal hours later -- I changed the game so that all players shared the same tower.
This little screw-up luckily inspired a major mechanic in the current (final???) iteration of the game: players travel from tower to tower, instead of staying in the same one the whole time.
The name's done its job.
Having seen this game in action, 'different towers' as a title is a little too subdued for what the game's actually like. It fails to really get across... well... the game. So I gave it a new one.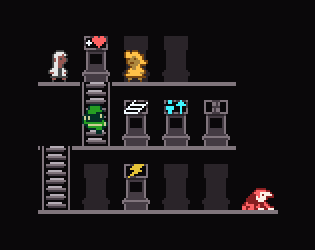 For everyone waiting for me to release the game, I'm working on it! Just... slowly. I have some hard decisions to make about how much to grow the game and I need to spend some of my energies elsewhere.
Maybe I should just set a release date.
... I'll do that soon...
Keep your eyes peeled.
Get Inconsiderate Climbers